Accounting and Invoices:
Studioware contains comprehensive accounts receivable functionality. Every student/family receives an account that records financial transactions.
Studioware also contains many financial reports, such as the Income Statement Report, Class Revenue Report, Accounts Receivable Analysis, and Outstanding Invoices.
Automatic and Manual Transactions
Studioware automatically posts transactions to student/family accounts when certain events happen,
such as an online enrollment into a class. Studioware also allows you to add, edit, and delete financial transactions.
If you want Studioware to calculate taxes, you can define goods (sales tax), service (service tax), or goods and service tax (VAT or Harmony Tax). Studioware will calculate all taxes and post them to the student account.
Tuition Fee Schedules
Studioware allows you to define a "Tuition Fee Schedule". The Tuition Fee Schedule allows you to set weekly class hours and the monthly tuition charges. Tuition and Discount transactions can then be posted to Student's financial accounts based on the number of hours of classes a student is enrolled in: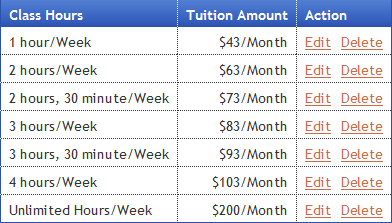 Creating Invoices
Studioware allows you to create professional looking invoices that can be printed/mailed or emailed to your students, families, and payees. You can configure your invoices to include your company logo, address, phone numbers, payment "stub", notes, and payment terms.
There are 2 ways to create student/family/payee invoices:
Open a student record (via searching or browsing students), and click on "Create Invoice". This method is ideal for creating invoices for individual students.
If you need to create an invoice for every student in your Studio that has a balance, you can use the Batch Invoice feature of Studioware to create multiple invoices. The Batch Invoice feature will create all invoices and optionally email the invoices to the students/family/payees all with the click of one button.
Studioware tracks the status of all your invoices so you will never miss a payment. The "Outstanding Invoice Report" contains all the invoices with an outstanding balance along with the payee name and phone number.
Invoice Payments
There are a number of ways to collect payments on Invoices, including:
A student, family, or payee makes a payment in person at your studio. You simply record the payment in Studioware and apply it to an outstanding invoice.
A student, family, or payee mails in the "stub" from a printed invoice along with a check. Again, you record the payment in Studioware.
Invoices can be paid online with a PayPal account, Master Card, Visa, or ACH

You can configure Studioware to allow for your invoices to be paid online. If a student, family, or payee makes a payment online, Studioware will automatically be updated with the payment information. If an online invoice is paid in full, the invoice status will be switched to "Paid In Full". This is the easiest and most time saving method of accepting payments, because any payments made to an online invoice is automatically updated in Studioware.
Here are the 6 steps involved with online invoice payments: